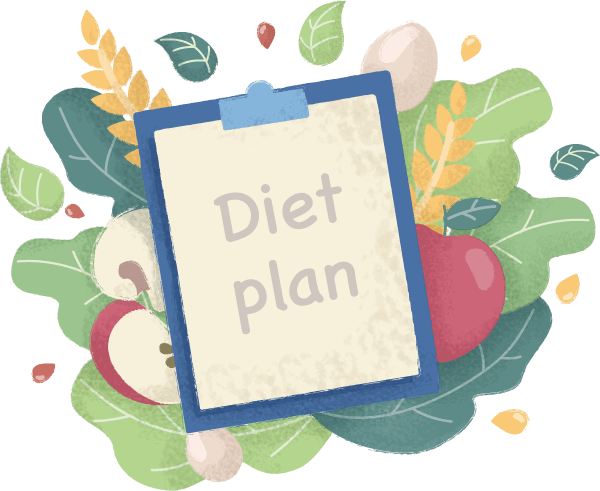 Building a Diet for YOU and YOUR Goals
Here are some inspiring stories of my clients. To view all my latest reviews, please click the following button.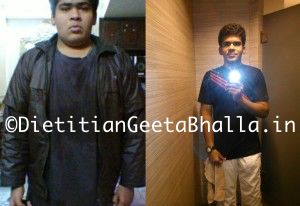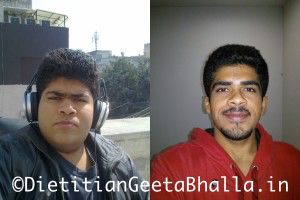 "After struggling with weight and not listening to my mom all through my school years I finally gave up living in denial and started my weight loss journey with my mom way back in Dec 2012 I followed my mom's(Dietitian Geeta Bhalla's) diets religiously and It took me about 14 months total to get from a weight of 106kg to 64kgs (Before/After images, above).
I hope my Mom succeeds in changing people's lives for the better just the way she did with me. Thank you and sorry for not listening to you before MOM! At least I'm an example now :D*"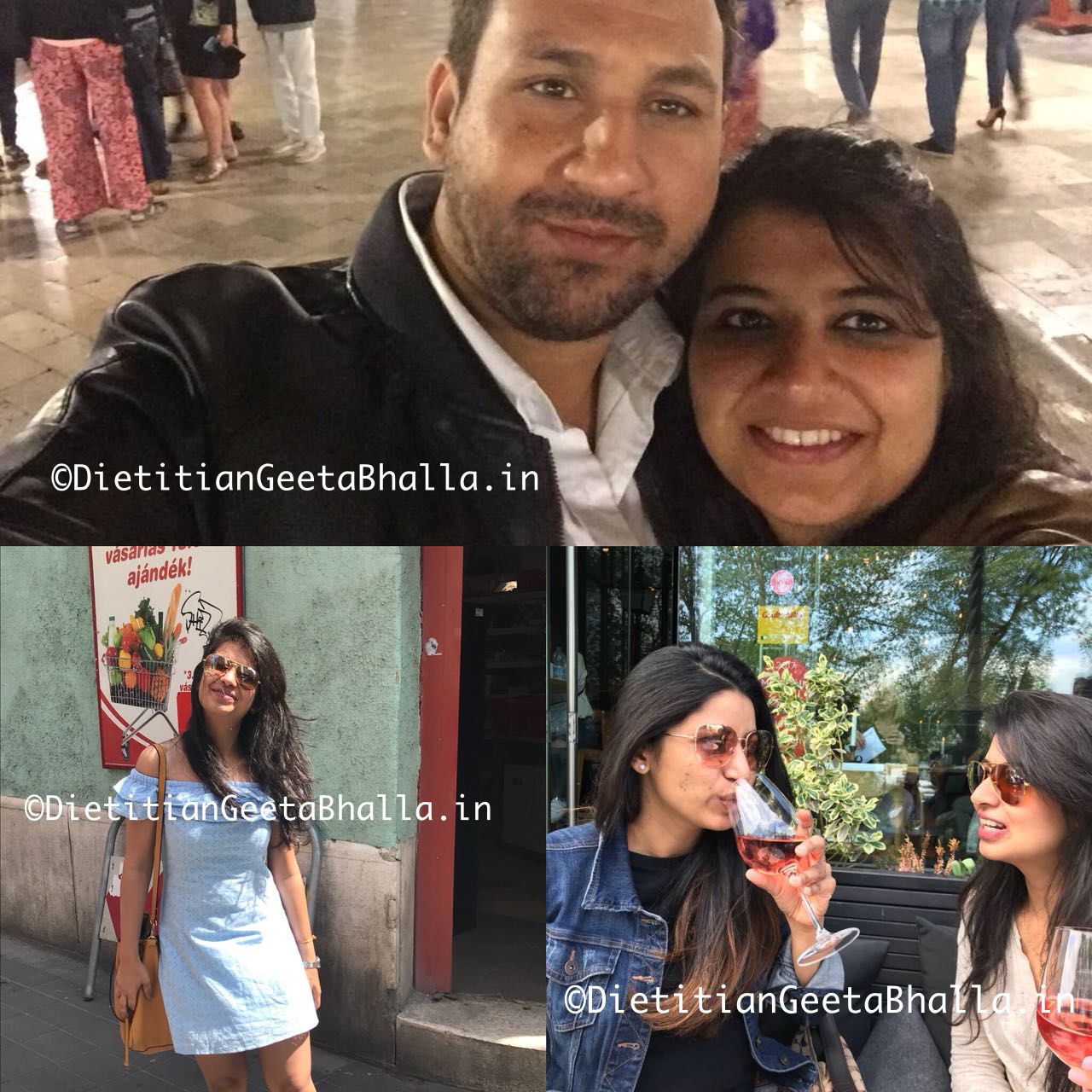 "Thank you so much for your continuous support to help me and my husband reduce a tremendous 10 kgs … Also the distance didn't really make a difference to the effectiveness of the diets.. Like me in Guwahati and you in Delhi. thanks for giving us our new personalities!!!*"
"Hello, I am Moushumi and my heartfelt gratitude to Geeta Ma'am for helping and guiding me to lead a better life with her weight management plans. Not only I have lost my excess weight, I have got my confidence & energy back. In last 3 months I have lost 10 kg and still continuing. The secret of eating correctly and timely really helped me a lot. Her diet plans are healthy and unique. I never felt hungry and weak.Thank you Geeta Ma'am for teaching me the Art of Losing Weight and managing my health issues with the well planned & easy to follow diets.*"
"I have been taking the diet program from Dr. Bhalla. My diet is continuing at the moment. One of the reasons why I chose to go to her, since south Delhi is full of options is because she had responded to each and every review which had come her way online. This encouraged me. I wanted to be with a dietician who is involved in my process and responds to queries immediately. Dr. Bhalla is absolutely like that. She keeps in touch with me and meets me also to keep encouraging me. The weight taking and sending ritual keeps me on track. Thanks*"
"Hi all, I strongly believe that when somebody starts a weight loss journey it takes lot of efforts to control on your habit of having unhealthy food. Even after controlling , it is not necessary that everybody gets result on the same pace. Few loose easily and for few its really very difficult. And in such cases if you get a dietitian who does not limit herself by writing a diet on piece of paper , you feel extremely lucky.
There are very very few such diet consultants in delhi and one among them is Ms. Geeta Bhalla. She puts a lot of efforts to make your weight loss journey successful. Be it her diets which are the easiest diets I have ever followed or her motivational words which encourage you to loose and not get frustrated, both help in making your journey successful. Her diet plans helped not only in weight loss but also in enhancing my skin glow. I really feel happy and lucky to meet her and start my weight loss journey with her.
Thanks you so much mam..!!*"
"I have followed a basic diet for years and have been working out regularly, but losing weight has always been a challenge. The diet I was given by Geeta Aunty, has not just been healthy, but has helped me lose over 11 pounds. The diet included everyday, basic food, and she always gave me substitutes in case I didn't like a certain meal. Even though my diet is over now, I am able to control my portions, and monitor the type of food I eat. I will absolutely recommend this plan to anyone who wants to lose weight the healthy way.*"
"Geeta was instrumental in my weight loss journey. With her help and guidance I lost 10 kgs in 4 months. We live in Australia and despite the distance apart using technology she managed to keep in touch regularly and keep me motivated through the journey.*"
"I always had a problem with my weight and no matter what I did I simply could not loose weight. I was really depressed and no matter what I wore I just hated myself. Even that was not enough so one day when my 10 year old daughter told me that if I lost some weight I would look what I used to in the picture ( my wedding photos) , that's when maam u came as my saviour…. thank u soooo much for this amazing transformation where everyone seems to be talking about the new me… slimmer and more confident. The best compliment I received was …… is it love or dove . So once again thank u ma'am for all that u have done*"
"Hi. I was really upset with my weight and in spite of gymmimg I was not able to lose that extra fat. I had lost all my confidence as i was not able to get in shape. Then I came across dietitian Mrs. Geeta Bhalla who changed my life completely. I not only lost around 7kgs but also saw a change in my complexion and mindset. Her diets are just fabulous, easy to follow, doesn't make you eat less and takes a lot of pain to make you follow it.
She is always super active and keeps texting me at every short interval of time and is very flexible. Now it's been almost 3 months that I have been following her diets and have decided to stay with her for the rest of my life. She makes an extra effort to help you achieve your goal. I am glad I met her.*"
"It's been less than a month and I have already lost around 3kgs without starving!! She gave me a really healthy and balanced diet with lots of fruits and has always kept my body hydrated which has led to the glow which was missing earlier. Also her diets are very flexible! She takes a lot of pain and is always encouraging. Thank you so much, I'm enjoying your diets a lot.*"
"My weight was stagnant for years inspite of trying everything. Thanks to Mrs Bhalla I can finally see it coming down. I have reduced 8 kgs in 2 months and the best part about her diet is you don't have to starve yourself I guess it's all about eating the right kind of food at the right time⁠⁠⁠⁠. *"
"Hi my name is navneet . I weighed 90kg two weeks ago and at present my weight is 84kg. This may be a small feat for some people but according to me its a great achievement.
And the credit for all this goes to Geeta Bhalla mam. She is not just some dietitian , she is passionate about what she does. She does not follow a single diet but will adjust it almost daily according to the progress . My hectic schedule never came in the way during my weight loss journey instead she set the diet according to daily routine , which was the best thing . Also she is always available i could text her anytime whenever i need to ask some help.
Thank you mam hope to lose 10kg more soon*"
"Easily the best health consultant I've ever been to. Made me achieve all my weight loss goals a while ago and has helped me in maintaining my weight ever since. *"
Call Me Instantly Or Request A Callback!
*Disclaimer
The results shown in the testimonial section are of different individuals and the actual results may vary from person to person as the dynamics/triggers of weight loss are completely different for each individual.